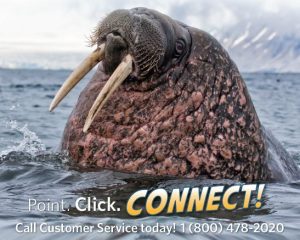 UUI Internet has many plans available to meet customer needs- to View Availability by Location, click HERE
Local phone service is not required to get UUI Internet service, but customers who subscribe to local phone service receive the discounted internet rates.
Our Commitment to an Open Internet
As a provider of internet services in rural Alaska, UUI has always been committed to an open internet that gives our customers the freedom to be in charge of their online experience. An open internet means that we do not block, prevent or otherwise impair our customers' freedom to direct their own online activity. This is a commitment that we stand by unequivocally. And that will not change.
Broadband DSL/Fiber and Wireless Internet:
Akiak, Akiachak, Chefornak, Eek, Hooper Bay, Kipnuk, Kongiganak (Fiber), Kwigillingok, Newtok, Nightmute, Quinhagak, Toksook Bay, Tuluksak, Tuntutuliak, Tununak, Unalakleet (see Plans)
Broadband Wireless Internet Only:
Alakanuk, Atmautluak, Chevak, Chuathbaluk, Emmonak, Goodnews Bay, Kasigluk, Kwethluk, Marshall, Mekoryuk, Mountain Village, Napakiak, Napaskiak/Oscarville, Nunam Iqua, Nunapitchuk, Pilot Station, Platinum, Russian Mission, Scammon Bay, Saint Marys/Pitkas Point, Togiak Twin Hills (see Plans)
Broadband DSL Internet Only:
Bethel, Manley Hot Springs, Minto, Ruby (see Plans)
Rural DSL Internet:
Arctic Village, Beaver, Central, Chalkyitsik, Gambell, Kotlik, Lake Minchumina, Lime Village, McGrath, Nikolai, Rampart, Savoonga, Stevens Village, Takotna, Venetie (see Plans)
Other Broadband Internet:
Livengood DSL  (see Plans)
Tanana Cable Modem  (see Plans)
Whittier Cable Modem  (see Plans)

Not sure which plan is right for you? Need to upgrade your package? Have questions about your internet service? Call Customer Service 1-800-478-2020. We'll be happy to help you!
Some UUI Internet plans have a maximum usage overage charge that UUI will bill an Internet subscriber on a single invoice, of $200. Customers on these plans who reach $200 of usage charges will no longer be billed for any additional usage during that billing cycle, but the Internet service may be reduced to a Basic Level of Service for the remainder of the billing cycle.

Other UUI Internet plans include a specific amount of high-speed data usage per billing cycle. Once all of the high-speed data included in the plan is used, the Internet service may be reduced to a Basic Level of Service for the remainder of the billing cycle. Customers on these plans are given the option to continue using the Basic Level of Service or upgrade to another plan.

UUI no longer offers Internet service plans that provide "unlimited downloads." Customers who have a requirement for dedicated Internet access services are encouraged to inquire with UUI's customer service department about other products and services UUI has available for those types of needs.
For speed test, go to speedtest.gci.com

For troubleshooting, please review Basic Internet Troubleshooting, Troubleshooting Tips and FAQs
Terms and Conditions apply. Please view UUI Internet Terms and Conditions.